Welcome to your Contests site, where you can discover your talents, challenge yourselves as well as shine yourselves in various contests. Above all, you will join the fun and spirit from participating in contests.

I. WRITING CONTESTS

Theme: WHAT CHANGE DO YOU WANT TO SEE IN VIETNAM IN THE YEAR 2015?
GENERAL RULES

1. There are two levels of competition: Collegiate and High School, open to all bonafide Tan Tao University students.
2. The essay, on the theme "WHAT CHANGE DO YOU WANT TO SEE IN VIETNAM IN THE YEAR 2015?" must be written in English between 500-1000 words in length.
3. Each essay may have its own title.
4. All entries must be submitted as an MS Word document (.doc) or Rich Text File (.rtf) and should follow standard essay format (double-spaced; 8.5″ x 11″; one-inch margins on all sides; 12 pt. Times New Roman or Arial).
5. The participant's name must not appear on any of the essay's pages.
6. Individuals may submit more than one article to the competition, but only one article per person will be eligible to be promoted to the final round; selected at the discretion of the review panel.
7. Only original and unpublished work may be entered. Articles published in school newspaper, on websites or blogs, or even as part of a thesis may not be entered.
8. Any references made within the work to other studies or publications must be credited and noted.
9..Submissions will not be considered and may be removed if they are primarily a collection of notes from other articles.
10. Students are required to fill up registration form. You may get registration form from Mr. Kristoffer O. Danzalan.
11. All entries shall become and remain the property of Tan Tao University Writing Organization.
12. Deadline for submitting entries is on Friday, September 19, 2014 
PRIZES AT STAKE:
Ten finalists (5 high school and 5 university students) will receive gift certificates from book stores, restaurants, and leading clothing stores.

The two grand prize winners, to be chosen from among the finalists, will each receive 1,000,000 VND and a travel package.
FREQUENTLY ASKED QUESTIONS:
Q: Who can join the competition?
A: All Tan Tao high school and college undergraduate students can join the competition.
Q: Who or what do I write about?
A: The theme of the Competition is: "WHAT CHANGE DO YOU WANT TO SEE IN VIETNAM IN THE YEAR 2015?"
Q: What are the competition requirements?
A: Your essay must be in English from two (2) to (3) pages, or 500-1,000 words in length in 8.5″ x 11″ paper, double-spaced with one (1) inch margin on all sides. Use 12 pt. Times New Roman or Arial. You may or may not put a title in your essay.
Q: Where can I register?
A: You can get an entry form from all ESL instructors.
Q: Can I send more than one entry?
A: You may submit more than one article to the competition, but only one article per person will be eligible to be promoted to the final round.
Q: Should I put my name on the essay?
A: You should only provide your name and other particulars on the registration form and not on the submitted copy of your essay.
Q: Where do I submit my entry?
A: After registration, you may submit your entry to Mr. Kristoffer O. Danzalan via his email at chris.danzalan@ttu.edu.vn
Q: When is the deadline for submission?
A: The deadline for submission is on September 19, 2014
Q: How do I know if I qualify as a contestant?
A: All finalists will be notified by the committee through phone or email. It is thus important for you to indicate your contact number and address during registration. Winners are announced during the Awarding Ceremony in October
Criteria for Judging
A percentage system will be applied to streamline the writing competition and to make judging less subjective, and more easily understood.
Each essay should initially be read by 5 judges and the following criteria should be applied:
Creativity 30%
Structure/ Organization 30%
Adherence to Topic 30%
Grammar 10%
TOTAL: 100%
Description of Criteria
30% ‐ Creativity
The goal is to reward students who display the ability to think "outside the box"—that is, those who provide something other than formulaic answers.
Does this essay express ideas not commonly found in the other essays?

Does this essay display a lot of thought on behalf of the student writing it?

Does this essay address the topic in a way that makes the reader think?
 30% ‐ Structure/ Organization
The way in which an essay is organized helps make it more easily understood and appreciated.
Is this essay organized in a comprehensible way?

If the essay adheres to a traditional format, is there a clear beginning, middle, and end or introduction, body, and conclusion?

Does the argument follow a logical and easily understood progression?
 30% ‐ Adherence to Topic
Although essays should be able to find many unusual ways to answer a question, they should still, in some way, obviously respond to the chosen topic.
Does this essay, in one way or another, address the topic at hand?

Does the conclusion follow logically from the argument?

How compelling is the conclusion?
10% ‐ Grammar
II. TTU SPEAK-UP CONTESTS
"SPEAK UP" is the annual competition for students to express their ability of eloquence in English. The contest consists of three rounds which are interviewing, training, battling and impromptu Speech.
After passing the first round 1 – Interviewing in which participants will be required to join a two-on-one interview with the teachers from School of Humanities and Languages based on the registered time slot provided. Each interview will last around 15-20minutes.
The winners of the first round will come in the Training Session. The training session will be opened for all registered contestants. In this session, participants will receive feedback directly from one of their judges on their weaknesses and strengths. Also, the coach will also give tips on conducting interview, public speaking and team debating.The topic of prepared speech will be announced after the Training Session. 9 finalists will also receive a team T-shirt from the program.
The Grand Finale will consist of 02 parts. The first part is Battle Round in which Contestants will present their prepared speech in team; however, the score will be given individually. At the end of each presentation, there will be 1 question from the other team. After each team presentation, there will be 10 minutes for debating in team. After the Battle Round, 5 best Contestants will move on to the Impromptu Speech Round in which 5 final contestants will be giving impromptu speech on stage with 1'30s for preparation. The speech will be followed by Q&A from the Board of Judges.
SPEAK-UP Season 1
SPEAK-UP Season 2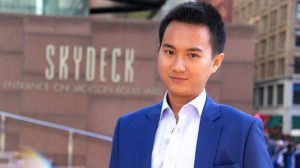 Congratulate Mr. Pham Hoang Man on winning the 2014 Speak Up contest!
SPEAK-UP Season 3 (coming soon)
III. SPEAKING CONTEST BY UNIVERSITY OF CAMBRIDGE ESOL EXAMINATIONS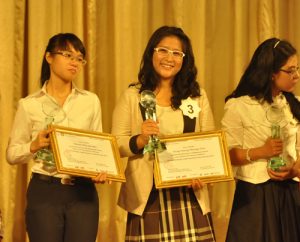 Congratulations to Phuong Truc on her success at the Cambridge English Speaking Competition 2012 organized by Cambridge ESOL!
IV. ONLINE TESTS (coming soon)