Deputy Dean and Fulbrighter Mr. Dang Thanh Nhon heads up the English program in the School of Humanities and Languages (SHL) at Tan Tao University (TTU), where English students find themselves rich with employment opportunities.
When offering English studies, what is the prospective outcome of the School of Humanities & Languages?
With the liberal arts education model, Tan Tao University students of English studies will be fully equipped with linguistic, cultural, and social experiences as well as knowledge of natural and economic sciences and finance. Students will learn "learning styles" and ways to use the tools to access and process information in the 4.0 Industry for future academic, personal, and professional purposes.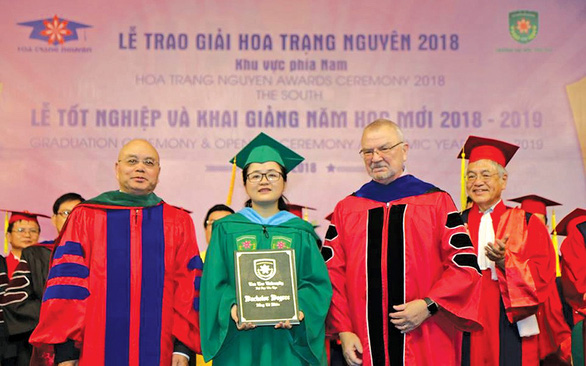 Le Xuan Mai- a student of the 3rd cohort of School of Humanities & Languages, won the 2017 YSEALI Scholarship initiated by US President, Barrack Obama.
The current teaching staff is mostly native English speakers from the United States and the United Kingdom. In the near future, international cooperation will be strengthened so that TTU students will have more opportunities for clerkship and for first-hand overseas experience. The students can apply what they have learned and immerse themselves in a 100% English-speaking environment to have real-world experience and prove their ability.
What will students learn when they choose English studies as their major?
Students of English studies will study general and in-depth knowledge of the language, culture, literature, and people of native English speaking countries, as well as English usage among non-native speakers. In addition, students will be equipped with necessary soft skills for communication, presentations, analysis, critical thinking, problem solving, teamwork, training of morale, professional behavior, and health for future effective work performance.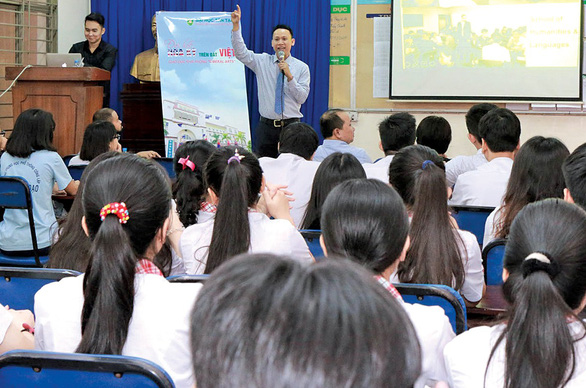 Mr. Dang Thanh Nhon, Deputy Dean of School of the Humanities & Languages hosted a discussion on Ways for Effective Study and American Cultural Spotlight at Tran Hung Dao High School in Go Vap District, HCMC.
In particular, students of English studies at Tan Tao University will learn standard communication skills, culture, and society that are expected to be appropriate for English-speaking countries. In other words, students will be able to deeply understand the language and culture, which allows them to be proficient in English in personal and professional situations.
In addition to English courses, in line with liberal arts educational thinking, students of English studies at Tan Tao University are granted the right to choose elective courses of their interest to broaden their knowledge.
Why is studying English at Tao Tao University unique?
First of all, offering training in the liberal arts and a concentration area is an integrative approach that offers core courses for specialization in Literature & Culture, Translation & Interpretation, or Teaching English to Speakers of Other Languages (TESOL). The training program is a combination of natural, social, economic and financial knowledge. The program is always up-to-date, and it meets the demand for careers in the future labor market.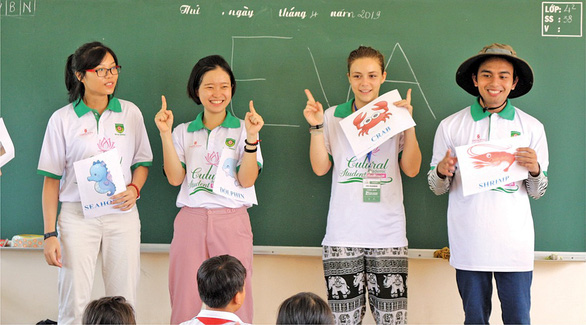 Tran Thi Thuy Tien (2nd from the left) together with students from the U.S. participated in the CASE 2019 program.
Second, faculty members are mostly native English speakers who are highly qualified and with rich teaching experience. Therefore, students are able to study, work and directly interact with these foreign lecturers, taking advantage of multiple resources to achieve the highest results. Let me give you a typical example: Ms. Le Thi Xuan Mai. She is a third-year student, who made an effort from the beginning and received the YSEALI scholarship initiated by U.S. President Barrack Obama. Mai had the opportunity to study in and experience Hawaii. Another student is Bui Nhu Hong Hanh, one of the 2nd cohort of students, who received a Singapore Summer Camp Scholarship. These students said that thanks to the language environment at Tan Tao University, they were able to reach out to the community, develop their career and go abroad for further studies without many difficulties or obstacles. This is considered the prime motivation as well as the prospective outcome that School of Humanities and Languages will continue to make concerted efforts to continue achieving.
According to the enrolment scheme, in the academic year 2019-2020, TTU plans to admit 400 students. The University will receive admission applications from June 2019. There are 12 majors for admission: biotechnology, applied biology, electrical engineering, computer sciences, English studies, general medicine, nursing and medical testing, business administration and economics, international business, finance, banking and accounting.
In particular, TTU not only admits students from Vietnam but also students from other countries. This year, TTU's Board of Administrators, Schools and Faculty are determined to perfect the training program, meeting the standards of Vietnamese and American education.
In addition to screening the admission application, TTU carries out candidate interviews. Faculty members directly check the entrance quality and ability of candidates, reducing the risk for them choosing a major beyond their capacity, thereby helping students to keep their passion and pursue it to the end so that they can land a good job with a high salary upon graduation
And third, it is the major-related extracurricular programs. Students of English studies have plenty of opportunities to participate in activity models and cultural exchange programs. These activities help students become confident, assert themselves, and network with other people in the community.
What kinds of work can students of English studies do after graduation?
There are quite a lot of job opportunities for students of English studies. Students just need to study one major well, but they are likely to land numerous job opportunities. It is true that graduates of English studies always find competitive salaries at foreign-invested companies and foreign companies in Vietnam. Trained as a global citizen, students are able to live and work anywhere. In addition, experts say, English studies is the preferred field of study as the Vietnamese labor market always needs people who are good at using foreign languages, cultural and social knowledge and mastering professional skills.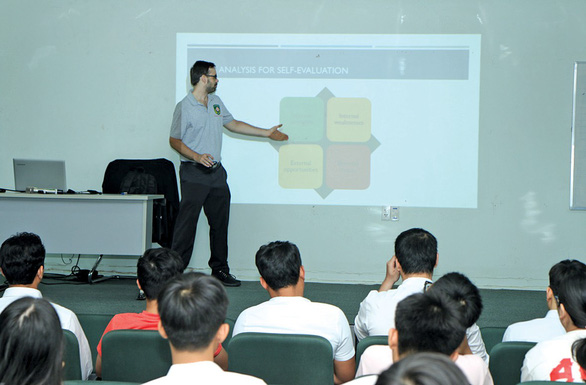 Jonathan Lankford, MEd, faculty member from the U.S.,
After graduation, students of English studies at Tan Tao University can work as translators, as publishers, in diplomatic agencies, in media, and in socio-economic organizations in Vietnam and abroad. They can work as communication experts, event planners, secretaries, assistants, tour guides, travel agents, hotel receptionists, and English teachers at universities, colleges, schools and language centers.