Jonathan Lankford, 12 years as an educator in Vietnam
While many Vietnamese students tend to go abroad for education, one American has spent over a decade bringing education to Vietnam.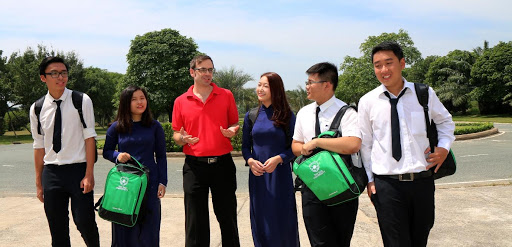 Mr. Jonathan Lankford is always enthusiastic about helping students.
Overcoming personal challenges
Mr. Lankford initially started studying theology at university but later showed an interested in education. While maintaining his studies in theology, he opted to take an education course to see if he liked it. He began planning a career in education after the future teachers in that basic education course said he's never become a teacher.
After graduating with a degree in theology and a significant amount of other coursework in cross-cultural communication and education, he began working an office job trying to pay back his student loans. He continued in this way for 3 years, until his mentor asked him, "Why are you still here?" and purchased a plane ticket for him to move to Vietnam.
Upon in Vietnam, Mr. Lankford found a job at Vietnamese American Vocational (VATC) Training College, working 7 days a week. While working at VATC, he had to budget his finances to continue paying off his student loans. To stay under his daily budget of 50,000 VND, he took multiple buses to and from work every day and ate banh mi from street venders – and he did this for two years.
While living day-to-day in this way, he found motivational and social support from both the expat community and the Vietnamese community, while in return supporting local youth clubs and teaching ESL for free.
Establishing a home and family in Vietnam
After saving and budgeting for several years, he received a promotion to Raffles International College as business communication lecturer, then again as principal lecturer at PSB College. Making a life for himself, he began a family and a home.
He finally found the perfect working environment at Tan Tao University, where both teachers and students are involved in life-long learning in the liberal arts. No longer was he limited to teaching ESL or business communication, but now he could share with students subjects about which he was passionate: history, language, culture, literature, and how all of this is integral for students planning to work effectively in an English-speaking environment.
Sharing the reasons for choosing Tan Tao University as a place to work and continue his career, Mr. Lankford said: "The fact that Tan Tao University is located in Long An Province could be a minus to some students who love the noise and crowd of the city, but for those who are passionate and fond of learning will definitely find it an ideal place to work and live to their fullest. So, I chose Tan Tao University as a place to continue my educational career."
Tough love
Upon talking about Mr. Jonathan Lankford, students at Tan Tao University remarked that he was a strict but warm teacher. Mr. Nguyen Thanh Vinh, a former student detailed: "He has a very different way to transfer learning motivation to students. Whenever he asks questions, and if there were no answers from the students, he would stand there looking at the whole class until all the students could find out the answer and share it with each other. His eyes are so serious that some students might feel scared a bit from the first class session. However, when the students got used to it, they all found that it was his eyes that gave more energy than the word of encouragement would do. Thanks to that, the learning outcomes are always better."
"Do you think you can do it? No. You can't do it!" This is a sentence that Mr. Lankford often tells his students. At first, many people consider the statement a disparagement. However, it is not because for him, it is the unyielding love that he gives to his students. He said, "When I say they can't do it, I expect my students to immediately react with, "You're wrong. I can do it", not "Don't say so. It sounds sad!"
Instead of always using nice and pleasant words, Mr. Jonathan Lankford thinks it would be better to allow students to see the problem in a straight manner, and thereby practice getting used to the harsh reality. Therefore, they have a strong motivation to constantly strive to become the perfect version of themselves. This method comes from his own experience overcoming personal obstacles.
Looking from the outside, Jonathan seems strict and cold, but from the inside, he is a warm and heart-felt person.  In particular, he always strives for excellence so that he can bring the most updated knowledge to students. Instead of having a summer break and spending the quality time with his family, Jonathan searched and registered for new courses for more knowledge. Jonathan expresses his love toward the students through his fondness for learning.
"For a teacher, being aware of self-learning and life-long learning is a prerequisite to becoming a good teacher. Otherwise, we can completely question the mind and the flame of the noble profession. Moreover, without self-learning and application of newly learned knowledge, things will fall into oblivion right after one year. Therefore, I always remind myself to learn continuously, learn more and learn forever", said Mr. Jonathan Lankford.
Mr. Jonathan Lankford now has 12 years of higher education experience, a master's degree in education, a master's degree in business quality management, and is currently enrolled in a doctoral program.