Hello everyone! My name is Hanh Bui, an English major student from School of Humanities and Languages.
I was lucky to win a chance to participate in the 8th Asian Science Camp 2014 (ASC 2014) in Nanyang Technological University, Singapore from 24th to 29th , August, 2014. It was one of the most amazing experiences in my life. It has been half a month since ASC ended but the memories I had there are still fresh and crystal clear. And today I'm so excited to share with you about what I brought home from such a valuable experience.
An exposure of the world of science
The number one thing I expected when going to ASC 2014 was to get a better understanding about science and its current stage of development, so when I was at the camp, I couldn't tell how proud I was to interact with renowned Nobel laureates, Field medalists and eminent scientists. They delivered lectures about hot topics in the recent years like Nanotechnology, Nanoscience research, and Structural Biology. We had discussions on a very basic yet ambitious question of human beings, that's whether we could solve every problem of human health. For example, Prof Sydney Brenner's lecture was about Medical research and human biology. Additionally, Prof Aaron Ciechanover in his topic about Personalized medicine revolution, raised a question asking if we are going to cure all diseases and at what price. We also had a panel discussion session in which students were encouraged to make questions to the scientists, and the topic was the possibility that global challenges would be solved by discovery and innovation. Throughout the discussion, we could figure out which ways we would go in our future research. Personally, I realized something valuable: In this 21st century, science is borderless, and as long as we are together, we speak the same language – the language of science – for the same noble purpose: contributing our abilities to human development. All of this was totally impressive, promising and inspiring.
Great source of inspiration from distinguished professors
The professors delivered their respective lectures. Some of the professors were formal and meticulous, the others were humorous and easy-going. My knowledge was not enough to understand parts of some lectures, but I always found the enthusiasm of the professors. I felt an inspiration prevailing throughout the lecture room in every single second. Some professors were young and energetic, which made me feel very excited. And there were some very older scientists who came to talk to us despite their physical weaknesses, which made me really touched. They were old but their minds were still good and their hearts were still dedicated. I remember Prof Sydney Brenner (Nobel Laureate in Philosophy of Medicine 2002), who couldn't walk fast and had to sit in a chair and talk in his lecture instead of walking around and doing power point presentation. But when he spoke with his sense of humor and with his boundless heart, we students couldn't help laughing, and at some points I was so moved that I found tears on my face.
Language and cultural immersion
Besides scientific knowledge, I also got a big enriching experience in language and interaction. Surrounding me were all of the talented and active students who were thirsty for knowledge and willing to join in every discussion. We were divided into groups of six from diverse cultures, and were expected to participate in poster preparation and presentation about a certain topic. We exchanged many different viewpoints in a very constructive way. Despite debating hard on the topic, we still had fun joking about anything it could be.
In such an international environment where English was spoken, at first I was a little shocked at how fast the discussion went. But thanks to the help of my teammates and my little extra research at night, I finally could keep up with the other members in my group. I spoke more confidently and effortlessly. Besides working time, the students were extremely friendly and sociable. We had a lot of chitchats, photographing, singing and sightseeing together. We talked about the differences in customs between several cultures. Though the schedule were quite tight, I found myself laughing all day long with many of friends I met. Now I really miss them and I'm sure that we will keep in touch.
To tell you, my fellows, from the bottom of my heart.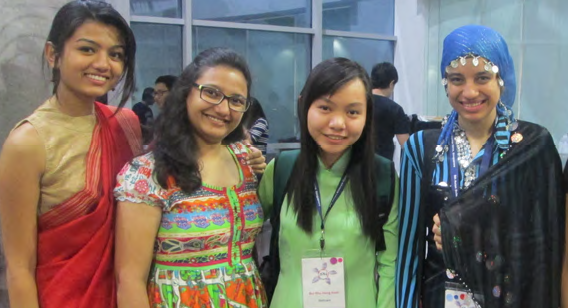 The ASC 2014 was the best experience that I have ever had in my life. Now that I have come back to TTU, I really want to share with you about it. ASC did dramatically change my lifestyle and my thinking. Now, even when I'm dead tired, I get energy from the ones I work with. I don't feel pressure from my studies anymore, because I have freedom to choose what to do and how to do it. I will never forget Prof Aaron Ciechanover's words: "Do whatever you like. That's your life, not their life"; or Prof Ada Yonath's words: "Because it is the life. I don't know and I cannot answer your question, but you may be the person who can solve that mystery". These echoed one of my dearest TTU teachers, Dr. Kevin Chiew, who said: "You are the future of your home country and the world, do all the best you can to contribute to the peace of the region and the world". The last thing I learned from the journey that I want to share with you is: Striving as hard as we can, and luck itself will find its way to us as a reward to our efforts.