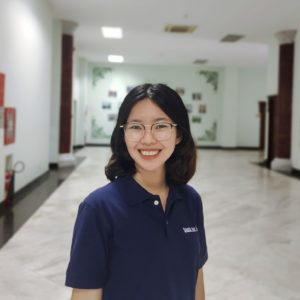 Huynh Chau, an SHL alumna, has won a Fulbright Foreign Language Teaching Assistant (FLTA) scholarship by the United States Department of States, Bureau of Educational and Cultural Affairs. The Fulbright FLTA Program is designed to develop Americans' knowledge of foreign cultures and languages by supporting teaching assistantships in over 30 languages at hundreds of U.S. institutions of higher education.
Huynh will start her program at the University of California-Santa Barbara on September 10, 2022. She will assist in up to twenty hours of language classes a week, and she will enroll in at least two courses per semester, one of which must be in U.S. Studies.  She will also be expected to facilitate in-person or virtual cultural events, language clubs, as well as attend a mid-year enrichment conference in the United States to receive additional training on teaching techniques and pedagogy and share information about their current teaching experiences with other Fulbright FLTA participants. Huynh will finish her program in the United States on June 15, 2023.
Huynh would like to express her sincerest thanks to the School of Humanities and Languages, Tan Tao University for application guidance and support.